WinDeed has recently become aware of emails containing WinDeed branding being distributed from a GMail or obviously non-WinDeed email address, asking the recipients to download an Excel attachment or to click on other links. As you see from the example of such an email below, the From: field comes from TNalory@journeypure.com. After some initial investigation by the LexisNexis Technical Operations team, it is suspected that this may be a result of an attorney's email Contacts list being hacked.
The emails that have come to light so far include an Offer to Purchase (see an example of the fraudulent WinDeed Offer to Purchase) with WinDeed branding or a Deeds Office document copy email confirmation, as per the example below.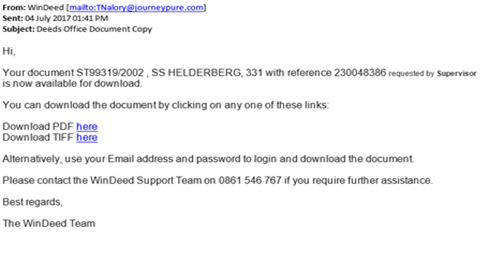 The latest example concerns an updated Phishing scheme with the doc copy confirmation email in which customers are asked to login using their E-Mail Login not WinDeed login. When the user clicks on this link it then redirects them to a fake WinDeed website requesting their email address and password. The email reads as follows:
"Your document ST76319/2102, 331 with reference 280049386 requested by Supervisor is now available for download.
You can download the document by clicking on any one of these links below using your E-Mail Login not WinDeed login
Download PDF here
Download TIFF here
Alternatively, use your Email address and Email Password to login and download the document.
Please contact the WinDeed Support Team on 0861 946 527 if you require further assistance.
Best regards,
The WinDeed Team"
These emails are not legitimate and recipients should delete them immediately. WinDeed never asks their customers to reveal a password or other personal information by an email link.