"If law firms and legal departments really want to have more women on their most powerful leadership committees, they need to do more than provide check-the-box-training. These programs are fine for introducing women to ideas about leadership. But committed firms cannot stop there. An organization truly determined to advancing women lawyers into the highest ranks of leadership will provide opportunities for them to develop into leaders. This requires mentoring, sponsorship, and access to leadership opportunities that include coaching support."
~ Ellen Ostrow, founding principal of Lawyers Life Coach in US
In alignment with international statistics in female graduates, the majority of LLB graduates in South Africa are female. We need to ask ourselves what the increased presence of women in the legal profession means. As Professor Menkel-Meadow, a scholar of the legal profession questions: "Will it be simply that more lawyers are women, or will the legal profession be transformed by the women who practise law?"
In order for women lawyers to transform the profession, they need to find their authentic voice as leaders. They need to uncover their own style of practising law and of leading in a profession that has, since its inception, been designed around a masculine way of viewing the world, conducting business and a masculine model of success. It's time we explored questions such as "do women lawyers practise law differently to men?" and what this might mean. These enquiries are not intended to polarise the genders but rather to acknowledge the differences openly and work towards a model of integration. The research has proven that companies in which the boards have an equal number of women and men do better than their counterparts. In the same way, law firms that are able to harness the different qualities and approaches that men and women lawyers bring to securing and retaining clients, and to resolving conflict will improve their bottom line and their sustainability. For this to succeed it is far more than a numbers game.
On 18 September 2015, 100 women convened in Cape Town for the Centre for Integrative Law's inaugural Women in Law & Leadership Summit: Finding New Ways for Women to Lead in Law, held in partnership with UCT's Law@Work Division. The summit was structured to provide a space in which women lawyers could be inspired, uplifted, supported and challenged to reach their full potential personally and professionally. It was attended by a diverse mix of women in law, including law firm partners, associates, candidate attorneys, in-house counsel, government officials, lawyers in the non-profit sector, some academics, and law students.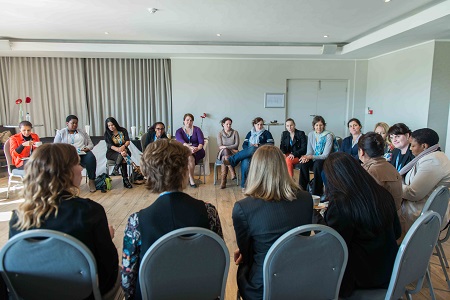 A circle of women lawyers in session facilitated by a professional coach at the Finding New Ways conference, 2015
At the closing of the conference a large number of the delegates expressed their desire to be part of an ongoing community of women lawyers focused on personal and professional development. They wanted to harness the support of other women that they had felt that day. As one delegate said afterwards "calling that a 'conference' doesn't really do it justice. It was more of a healing of the legal profession". There was agreement on the importance for the profession of continuing the conversations begun at the event as there is little space for this currently in SA. This is how WOLELA was born.
What is WOLELA? Women Leading in Law
WOLELA is a national network of women lawyers committed to their personal and professional development. Lawyers who join the network sign up for a year long process in a new paradigm of leadership development for the legal profession: integrative and authentic female leadership. This process takes place in 10 evening sessions held once a month over the course of the year as well as in formal and informal conversations and networking opportunities between sessions.
WOLELA's mission is to assist individual women lawyers in their personal leadership journey leading self, leading others, leading organisations and leading in society.
How Membership Works
WOLELA is run on a yearly subscription basis requiring members to sign up by latest 22 January to enrol for 2016. Group size is limited to approximately 25 members in Cape Town and 25 members in Johannesburg. WOLELA members will have access to executive coaching at a reduced cost and reduced delegate rates to attend the Centre for Integrative Law's annual women lawyers' conference: Finding New Ways for Women to Lead in Law.
Are you interested in joining the cutting edge of leadership development for lawyers in South Africa?
To learn more about what WOLELA offers and to decide whether this may be of interest to you, visit the newly launched WOLELA website www.wolela.co.za
Watch the 4 min video of our 2015 women lawyers conference and ask yourself:
"Am I going to survive 2016 or am I ready to learn how to thrive in my personal and professional lives?"
In order to hold our first leadership session in the last week of January, we're asking women to sign up by 22 January to enrol for 2016.
For enquiries please contact Sakina Grimwood at the Centre for Integrative Law events@integrative.co.za