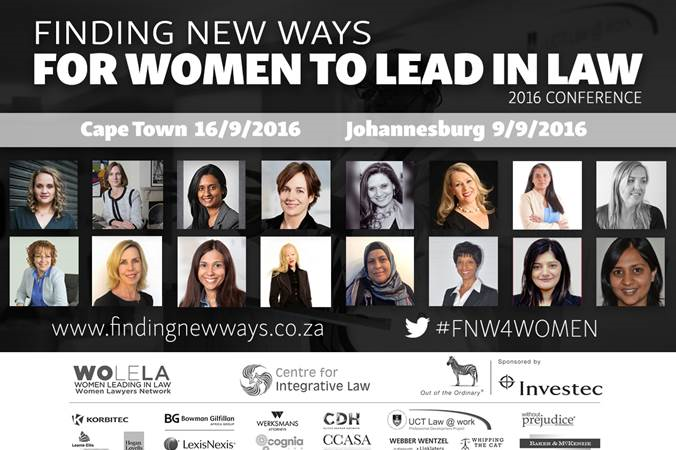 A cutting edge conference for women lawyers on innovation, charting your career trajectory, dealing with burnout. Raw no-holds barred dialogues with 12 dynamic panellists from across the profession.
Korbitec is a proud sponsor of this year's Finding New Ways for Women to Lead in Law conference, which is an opportunity for women lawyers to:
Slow down and reflect on your relationship to the law and the legal profession;
Shift focus from what's urgent (the 100 emails in your inbox) to what's important: your enormous potential as a lawyer to change the world;
See new possibilities emerging for your career and your way of being in the world;
Feel more connected to other women in the profession and not so alone anymore;
Remember you always have the freedom to choose.
Hosted in Johannesburg and Cape Town by Investec.
Johannesburg 9 September 2016
Cape Town 16 September 2016
The cutting edge one day program includes 3 panel discussions:
Panel 1. Shaping the Future: How women are shaping the future of law.
Panel 2. Surviving To Thriving: In the legal profession, we normalise anxiety, burnout and even depression. We suffer in silence. We are pushed to the limit, we feel we can't carry on, yet carry on regardless.
Panel 3: Oh The Places You'll Go! We talk to women who've charted their own course with a law degree and who've chosen to stay relevant in a rapidly changing marketplace.
In the afternoon there is a choice of 3 breakaway sessions:
Crossing the Divide: From private firms to in-house counsel or vice versa;
The Balancing Act: Managing Motherhood and a life outside of work;
Developing Strategies for Managing Overwhelm.
The final session of the day is called: Courageous Conversations and allows everyone in the room to have a chance to share their thinking in a structured dialogue facilitated by Mabatho Seeiso around Transformation in the Profession and Do Women Have Each Other's Backs?
For the full Agenda and details of the amazing speaker line up please visit the website www.findingnewways.co.za