Dear Club Member,
Can you believe that we are already half way through this year? As usual, we have included info on new developments in GhostConvey along with news, events, recipes and off course the ever exciting competition.
---
What's new in GhostConvey?
Absa Home Loans: Property Transaction Hub
After a successful pilot between Korbitec and Absa, we are privileged to announce that Korbitec' s Property Transaction Hub was endorsed by Absa Bank to allow your practice to attend to both the registration of the Transfer and linked Mortgage Bond simultaneously.
Collaboration using the Property Transaction Hub is a standard GhostConvey feature which comes at no additional cost.
For any additional information or to book your seat for training, please contact us on 041 365 3901.
Message Centre
Bond and transfer messages and instructions are now also being managed through the Message Centre.
Remember to have a look at the TRAINING VIDEO which can be accessed from the Message Centre.
If you require training on the message centre, please contact our offices to book training.
Bonds and Transfers Progress Dates
You can now update bond and transfer progress dates from the matter list.
Did you know?
You can attach documents from the Anytime Tasks in the GhostConvey matter list. You can save the attachments to any matter in GhostConvey.

- attach document icon in Bonds and Transfers modules.
Reminder - Customer Service Centre (CSC)
Korbitec offers a centralized support centre if you require any assistance in the smooth operation of any of the GhostConvey Suite products. We are moving towards a more centralized support structure, known as the Korbitec Customer Service Centre (CSC). A team of dedicated consultants and specialists on the GhostConvey suite are standing by to assist you with any queries you might have. They can be contacted on 0860 266 839 or alternatively by email at csc@korbitec.com.
---
Meeting the team/Korbitec staff news
In the past few months we have gained two new staff members and said farewell to two others!
We would like to introduce and welcome our new staff members Debbie du Plessis and Steven Collier. Debbie has been a part of the GhostPractice team since the beginning of May and Steven joined the GhostConvey/Windeed team the 1st of June as the Customer Relationship Manager.
Debbie is married and has two children aged 18 and 7. She loves good food and spending quality time with her family. Steven, also married, claims to be the biggest Sharks and Liverpool supporter in the world. He enjoys sport, music and the outdoors and also claims to make the best steak in PE.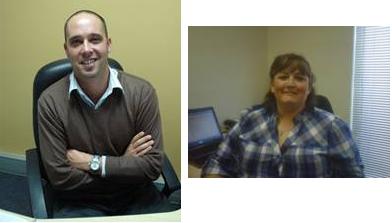 Goodbyes
We are very sad to say goodbye to two Korbitec staff members, Bernadette McNeilage and Lesley Warner. Bernadette (or Bernie as most of you will know her) has been with Korbitec for 15 years and is now working with her husband. Lesley, who has been with Korbitec since 2008, has moved to George. In April we had a farewell party at Capellini's, Sunridge Village, for Bernie and in May we had a function for Lesley at Keg and Swan.
Both ladies will be dearly missed! We wish them all the best for the future.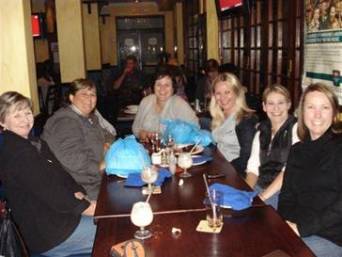 Congratulations
To Allesandri and Danillo who got married 28 May 2011.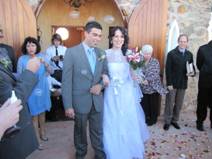 Events
Girls night out
31 March 2011 10 GhostConvey / GhostPractice / Windeed users won tickets to the Girls Night Out at Walmer Park Nu Metro Cinema and a Korbitec goodie bag. We watched the romantic comedy "No strings attached" (which ensured for many laughs and giggles).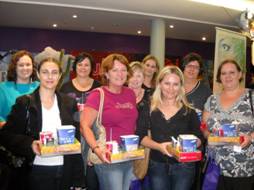 Rates Workshop
In April, we had a rates workshop at Elizabeth Place conference centre which was presented by Riana Smith and Cher Chapple from Korbitec, Cape Town. These two ladies introduced the PE clients to the electronic rates function in GhostConvey which allows you to send applications for rates figures to different municipalities within the Transfers module. If you would like more information on the electronic rates application in GhostConvey, please contact the branch or the Customer Service Centre to activate your firm for this functionality.
WinDeed Event
WinDeed recently hosted a network evening, with estate agents, where we had Hannelie Bronkhorst from Pumeza Bono Attorneys giving a talk on the Consumer Protection Act and how it affects estate agents. Everyone was treated to some cocktails and a flaring demonstration by the Bartenders Workshop.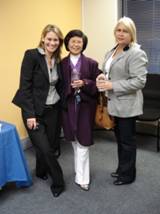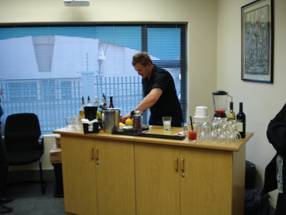 ---
Recipe of the month - Broccoli and Cheese Soup (enough for 6)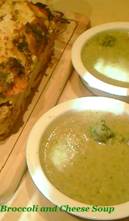 Ideal for a hearty starter or a light lunch
Ingredients
1 kg Broccoli (you can also use a Broccoli and cauliflower mix)
1 cup chopped green onion
3 tablespoons butter
4 tablespoons flour
4 cups chicken broth (garlic and herb veg stock also works well)
1 cup light cream
1 cup shredded gouda or cheddar cheese
pinch of nutmeg
salt and pepper to taste
Preparation
Cut enough broccoli florets to measure about 2 cups. Cut remaining broccoli into 10 cm pieces. In a separate saucepan, cook florets and broccoli pieces in lightly salted boiling water for a few minutes, or until just tender. Florets will take less time to cook. Immediately rinse with cold water to stop cooking; drain. Refrigerate florets until serving time.
In a large saucepan, sauté green onions in butter until tender for about 2 minutes. Sprinkle in flour and cook one minute longer, stirring constantly. Remove from heat and stir in chicken broth. Return to heat and bring to a boil. Reduce heat and simmer for 5 minutes, stirring occasionally. Add broccoli pieces to the broth then puree mixture into a blender in batches until smooth, return to pan. Just before serving, blend in cream and Cheese. Simmer gently until cheese melts. Add nutmeg, salt and pepper. Add reserved florets and heat through.
Serve with homemade bread.
---
WIN! WIN! WIN!!!!!
TWO CLUB MEMBERS can stand the chance to win a meal voucher to the value of R150 from Sage Coffee Shop in Pickering Park.
Just answer the question below and send your replies to rosiet@korbitec.com before 19 August 2011.
Which bank has recently endorsed the Korbitec Property Transaction Hub?
---
Words of Wisdom
"When we seek to discover the best in others,we somehow bring out the best in ourselves." - William Arthur Ward
---
Registering
Registration to our club is FREE. If you have not yet joined, please send us your details as follows to rosiet@korbitec.com and fill in the detail prompts.
Please send this newsletter to anyone in your firm who has not registered for the GhostConvey club yet, so they can also be added to the mailing list.