The World Bank Report - Doing Business in South Africa 2018 has found that Mangaung ranked lowest on an indicator in 2015 has achieved remarkable improvements in regulatory efficiency and converged with domestic best practices. Mangaung simplified the process to obtain a municipal rates clearance certificate needed to register property. Previously, obtaining the certificate required separate interactions with the electricity utility (Centlec) and the municipality.
In 2015 the municipality launched an electronic financial management system and e-application process for rates clearance certificates. In so doing, it improved its internal coordination with Centlec by integrating the utility into its new electronic platform. This eliminated the need for conveyancers to have a separate interaction with Centlec, removing one step in the process of obtaining a rates clearance certificate. Moreover, the automation of back- and front-office functions improved overall efficiency. Conveyancers now apply online and receive rates clearance certificates from the comfort of their office. Consequently, the time to obtain a rates clearance certificate was cut by a month (figure 1.6).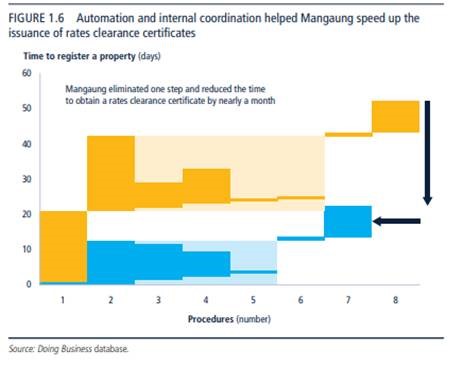 This brings Mangaung—formerly the sole location to require a separate interaction with the electricity utility—in line with other municipalities. Increased transparency across South Africa's local deeds offices also contributed to better conditions for registering property in Mangaung. Deeds offices now display their service commitment charter, stating time limits for registering deeds, on a public board at the agency. Taken together, these local and national factors have reformed the process of registering property, propelling Mangaung from last to first place on this indicator.
World Bank Report Doing Business in South Africa 2018